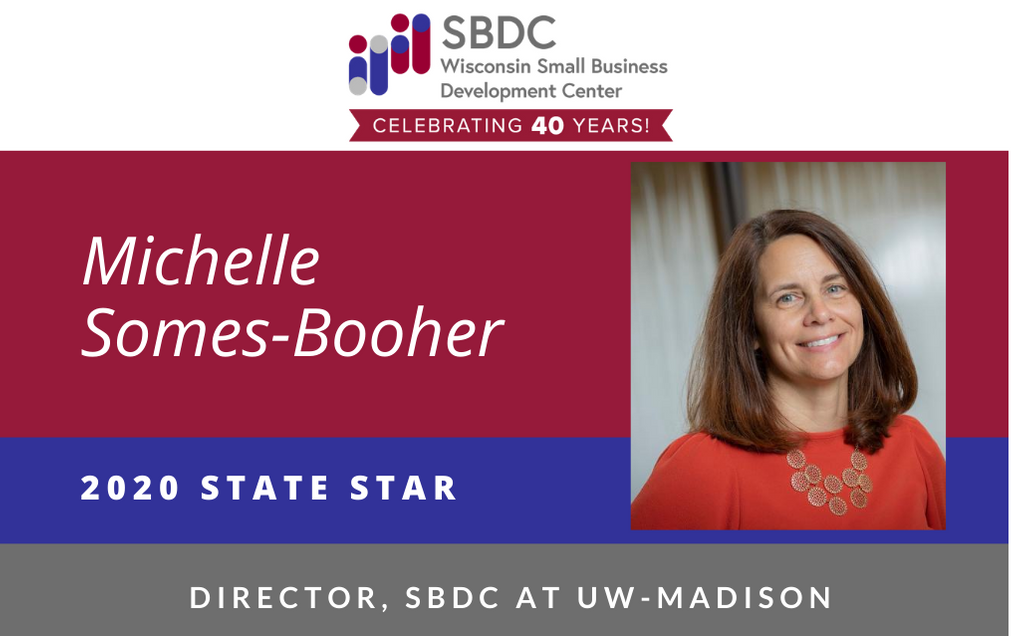 MADISON – Michelle Somes-Booher, director of the Small Business Development Center (SBDC) at UW-Madison since 2016, has been named by her peers as the Wisconsin network's 2020 State Star.
Somes-Booher was nominated by her staff and chosen in a statewide vote for her outstanding leadership, exemplified during the COVID-19 pandemic.
In her nomination, her team noted that she was able to assist business owners while supporting SBDC employees as they transitioned to working virtually by "gracefully balancing human empathy and office vision." During the initial phase of the crisis, March-May 2020, the SBDC at UW-Madison worked with over 200 clients on COVID-19 related issues. These clients have received over $7.75M in federal/state and local aid.
"Michelle anticipated challenges, made herself accessible and adjusted educational programming to be both safe and relevant to clients," said Bon Wikenheiser, state SBDC director. "All the while, she kept her team positive, productive and progressing via Teams check-ins. She made it clear to her staff and colleagues across the state that we're not alone even though we're not physically together."
"I was honored to be nominated by our team and it means a lot to be recognized by my peers across the state," Somes-Booher said.
The Wisconsin Small Business Development (SBDC) Network offers no-cost, confidential consulting and business education to new and existing businesses through 13 centers across the state. In 2019, the SBDC served 4,658 clients, resulting in $91.3 million in capital investment, 300 new businesses and 19,717 jobs supported.
The State Star award recognizes:
Impact on clients,
Innovative approaches,
Team spirit, and
Willingness to go the extra mile.
The Wisconsin SBDC is a nationally accredited member of America's SBDC, which traditionally honors State Stars each fall during its national conference. Past Wisconsin State Stars include David Stauffacher (2019), consultant, SBDC at UW-Green Bay; Kevin Kaufman (2018), center director, SBDC at UW-Whitewater; and Terri Urbanek (2017), consultant, SBDC at UW-La Crosse.
Somes-Booher earned bachelor's and master's degrees in business from Central Michigan University. Before working for the SBDC, she owned her own business and taught college-level business and entrepreneurship courses.
In her nine years with the SBDC Network, Somes-Booher has worked with over 700 clients. They have won the Wisconsin Governor's Business Plan Competition, appeared on "Shark Tank," and attended national events like the White House Demo Days and the America's SBDC client showcase.
She is also the co-creator of the free online First Steps to Starting a Business class that has been taken by over 2,900 people globally since its inception in 2018.
About the Wisconsin SBDC
The Wisconsin Small Business Development Center (SBDC) is a nationally accredited statewide network supporting entrepreneurs and business owners through no-cost, confidential consulting and business education. Regional SBDC experts facilitate improvement and growth for small and emerging mid-size companies and help launch successful new enterprises. The Wisconsin SBDC is hosted by the University of Wisconsin System Administration under the Institute for Business & Entrepreneurship. It is funded in part through a cooperative agreement with the U.S. Small Business Administration. www.wwwtest.wisconsinsbdc.org
###