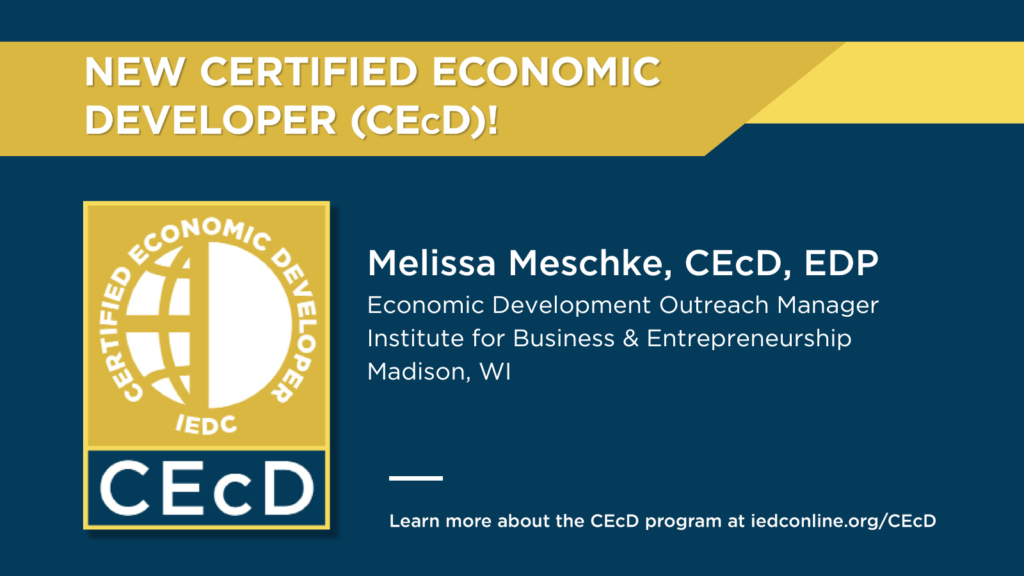 Madison, Wisconsin – Melissa Meschke earned the designation of Certified Economic Developer (CEcD), a national recognition that denotes a mastery of skills in economic development, professional attainment and a commitment to personal and professional growth.
The International Economic Development Council (IEDC) administered the written CEcD Exam on May 8, 2023, and notified candidates of their results on May 17, 2023. With over five years of economic development and entrepreneurship-led economic development experience, Meschke has successfully built programs for entrepreneurs via economic development organizations across the state. Holding positions with both the Wisconsin Small Business Development Center (SBDC) network and UW-System's Institute for Business and Entrepreneurship, Meschke has forged strong relationships with partners such as the Wisconsin Veterans Chamber of Commerce, Wisconsin Economic Development Corporation, First American Capital Corp and many more. Last fall, Meschke also earned her Entrepreneurship Development Professional (EDP) Certification from IEDC.
The CEcD designation recognizes qualified and dedicated practitioners in the economic development field and sets the standard of excellence within the profession. Candidates must pass a rigorous and comprehensive examination, which has three parts and spans two days. The exam tests a practitioner's knowledge, proficiency and judgment in the following key areas of economic development:
business retention and expansion
finance & credit analysis
marketing and attraction
strategic planning
entrepreneurial & small business development
managing economic development organizations
neighborhood development strategies
real estate development & reuse
technology-led economic development
workforce development strategies
foreign direct investment & exporting
"Economic developers are key to local business viability and are some of the Institute's most trusted partners," said Bon Wikenheiser, associate state director for the University of Wisconsin's Institute for Business and Entrepreneurship. "Melissa's skill gained through this certification process enables her to better collaborate with EDOs across the state to design programs and services that best meet the needs of their local economies."
As highly competent economic development professionals, Certified Economic Developers work with public officials, business leaders and community members to create leadership to build upon and maximize the economic development sector. Excellence in the economic development profession improves the wellbeing, quality of life and opportunities for individuals, businesses and communities. There are currently over 1,200 active CEcDs in the United States.