MADISON – An Eau Claire fire captain who invented an eight-directional compass to save firefighters who become disoriented in a blaze has won the 14th annual Wisconsin Governor's Business Plan Contest.
Jeff Dykes of Northern Star Fire LLC, a client of the Small Business Development Center at UW-Eau Claire, learned June 7 at the Wisconsin Entrepreneurs' Conference that he earned top honors from among 172 entries for 2017.
With the goal of linking tech entrepreneurs to the statewide network of abundant resources, the Wisconsin Governor's Business Plan is a rigorous four-stage process that results in finalists sharing more than $150,000 in cash and prizes.
Captain Dykes' product, The Northern Star, is a compass mounted inside a firefighter's helmet to indicate which direction the firefighter is facing. With nearly 100 firefighters dying in the line of duty each year in the United States, Dykes devised this product to save lives.
Dykes entered the contest because Tom Still, president of Wisconsin Technology Council, called at 8 p.m. the night of the deadline to encourage him to enter. "It was humbling, unexpected; I was completely shocked," Dykes said of his reaction to receiving the award.
A 20-year fire service veteran, Dykes started Northern Star Fire in 2014 after winning Eau Claire Area Economic Development Corporation's Idea Challenge.
Dykes received assistance from a number of state resources, including the Center for Technology Commercialization and the UW-Eau Claire SBDC.
SBDC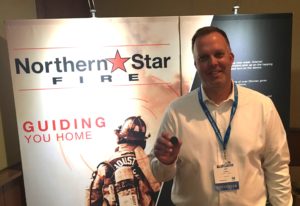 Center Director Luke Kempen provided technical support by identifying revenue and cost-of-sale streams, providing management guidance and assisting with financial projections in the business plan, to aid in his company's growth.
Kempen also recommended Dykes apply for the Ideadvance Seed Fund program, a two-stage process of seed funding and mentoring to move innovative ideas forward into feasible businesses. It is open to UW System staff, faculty, students and alumni at all campuses except UW-Madison.
Dykes completed Stage 1, which involves a six-month market validation process accompanied by performance-based grants, and advanced this month to Stage 2, which focuses on funding and customer acquisition while providing a $50,000 match grant.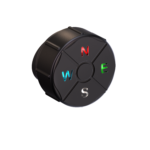 Having a target launch at the world's largest Fire Department Instructors' Conference in April gained Northern Star Fire the platform it needed.
With such a new concept, Dykes took orders from fire chiefs who promised to order more if satisfied. Entrenched in his target market. Northern Star Fire already has 100 pre-orders and is in the process of negotiations for a 10,000-compass order.
"I think the collaborative team effort demonstrated the power of marshalling the efforts and skills of many to arrive at a great outcome," Kempen said.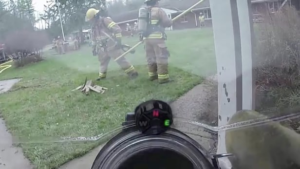 Related coverage: